Cookie preferences
This website uses cookies, which are necessary for the technical operation of the website and are always set. Other cookies, which increase the usability of this website, serve for direct advertising or simplify interaction with other websites and social networks, will only be used with your consent.
These cookies are necessary for the basic functions of the shop.
Customer-specific caching
These cookies are used to make the shopping experience even more appealing, for example for the recognition of the visitor.
Ashampoo Backup Pro 14 Download
€24.95 *
€49.99 *
(50.09% Saved)
Prices incl. VAT plus shipping costs
Item number:

241820413

Manufacturer No:

80741

Runtime:

Lifetime

Laguage(s):

All languages

Countryzone(s):

Worldwide
Data carrier to your software
Ashampoo ® Backup Pro 14 Sichern, Retten, Wiederherstellen! Ob Ransomware,...
more
Product information "Ashampoo Backup Pro 14 Download"
Ashampoo® Backup Pro 14
Sichern, Retten, Wiederherstellen!
Ob Ransomware, Systemfehler oder defekte Hardware – ein Backup hilft!
Erleben Sie mit Ashampoo® Backup Pro 14 die maximale Sicherheit! Denn diese Backup Software überprüft sich konstant selbst und sogar das Speichermedium, auf dem die Backups gesichert werden. Durch die automatische Verifizierung sind Backup-Fehler praktisch ausgeschlossen! Auch die neue Backup-Engine wurde strengsten Tests unterzogen und in enger Zusammenarbeit mit dem Support und zahlreichen Kunden optimiert. Die Sicherung ins Netz über Cloud-Dienste wurde in großen Bereichen neu programmiert – zu ihrem großen Vorteil! So einfach, sicher und performant konnten Sie noch nie in die Cloud sichern! Nutzen Sie das sicherste, kompatibelste und komfortabelste Ashampoo Backup aller Zeiten!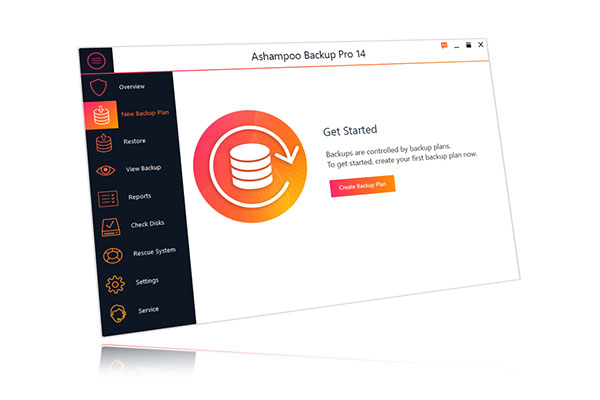 Mehr Sicherheit durch Festplattenprüfung
Nie mehr Backup-Fehler durch konstante Kontrolle
Jedes Backup ist nur so sicher, wie die Festplatte, auf die es gespeichert wird! Daher bietet Backup Pro 14 eine neue, gründliche Festplattenprüfung, die mit nur einem Klick gestartet werden kann. Während des Vorgangs werden auch SMART-Daten ausgelesen, die mögliche Probleme anzeigen, bevor sie akut werden! Mit einer weiteren Laufwerks- / Partitionsprüfung wird der Datenträger intensiv untersucht und bei Bedarf repariert. Ob interne oder externe Festplatten, genießen Sie die maximale Sicherheit für Ihre Datenträger!
Besser in die Cloud sichern
Unterstützt alle gängigen Anbieter und Speichermethoden
Im neuen Ashampoo® Backup Pro 14 wird das Sichern in die Cloud zum Kinderspiel! Natürlich so ist auch die Auswahl der Cloud-Anbieter optimal! Machen Sie Datenverlust praktisch unmöglich und verzichten Sie komplett auf eigene Speichermedien! Das gilt nicht nur für normale Datensicherungen, auch Sicherungen kompletter Partitionen sind möglich! Weiter verbessert wurde die Unterstützung von OneDrive Business / Office 365 und Owncloud sowie Nextcloud. Bewährte Anbieter wie Dropbox, Deutsche Telekom, Google Drive, OneDrive, Strato, 1&1 und viele mehr sind ebenfalls komfortabel nutzbar.
Volle Einsicht mit dem Backup Viewer
Backups einfach einsehen, ohne sie öffnen zu müssen
Backups müssen immer einsehbar und leicht nutzbar sein. Dafür bietet Ashampoo® Backup Pro 14 einen Bereich, wo Sie einen bequemen Einblick in Ihre Backups haben. So haben Sie jederzeit direkten Zugriff auf alle Dateien eines Backups, ohne dass sie extra wiederherstellt werden müssen. Das Öffnen der Dateien erfolgt zudem in einem speziellen abgesicherten Bereich, so dass die Backups selbst dadurch nicht geändert oder beschädigt werden können.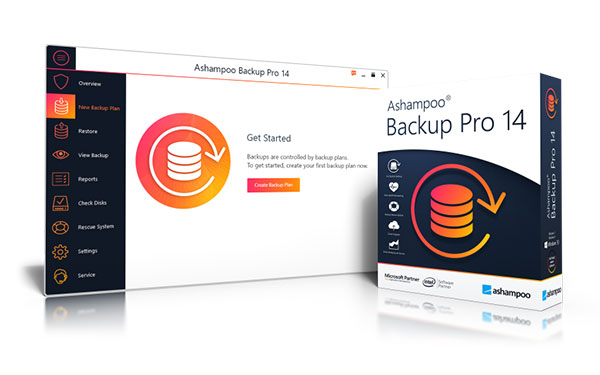 Damit Windows-Updates den Schrecken verlieren
Wenn früher alles besser war, sichern Sie einfach den alten Stand zurück!
Updates sind essentiell für jeden PC, doch sind sie immer wieder fehlerhaft. Im schlimmsten Fall ist ein Windows-Update so fehlerhaft, dass der Rechner kaum noch funktioniert, Datenverlust droht oder gar nicht mehr hochfährt. In diesem Fall denkt man häufig "gestern ging es noch". Mit Ashampoo® Backup Pro 14 wird Ihr Rechner in genau diesen Zustand zurück versetzt! Sehen Sie Updates des Betriebssystems, von Sicherheitssoftware oder wichtigen Programmen gelassen entgegen, Ihrem Computer kann nichts mehr passieren!
Jetzt mal schnell ein Backup machen? Unnötig!
Die Vorteile der Ashampoo® Backup Pro Strategie
Bei den meisten Konkurrenz-Programmen müssen die Backups erst gestartet werden und legen dann häufig den kompletten Rechner lahm. Mit Ashampoo® Backup Pro 14 wird Ihnen das nie passieren! Denn eine Backup Software ist dann am besten, wenn man ihre Arbeit überhaupt nicht bemerkt und die Sicherung dennoch stets aktuell ist. Daher arbeitet Backup Pro 14 kontinuierlich, ohne Sie bei der Arbeit zu stören. Das Programm analysiert die Auslastung ihres Systems und nutzt die Zeit, in der genug Power vorhanden ist. Sie können den Rechner wie gewohnt nutzen und die Backup Software verrichtet unauffällig und dennoch zuverlässig ihre Arbeit!
Sicher gegen jede Schadsoftware
Keine Chance für Erpressungs-Software, Viren und Würmer
Schadsoftware jeder Art bedroht Computer zu jeder Zeit. Experten gehen von 300.000 weiteren Bedrohungen täglich aus, die weltweit in Umlauf gebracht werden. Speziell Ransomware, bei denen Nutzer nur gegen Geld wieder Zugriff auf ihre Daten bekommen, sind weit verbreitet. Längst nicht jede Malware kann von Antivirus-Programme erkannt und unschädliche gemacht werden! Nur mit einem Backup haben Sie absolute Sicherheit. Ist ein Computer befallen, wird einfach eine saubere Sicherung wieder aufgespielt. Fertig!
Nicht nur für Profis
Business-Technik für alle!
Zentrale Sicherheits-Strategien des Backups wurden für eine Business-Variante konzipiert und entsprechen den strengen Standards für den professionellen Einsatz. Die höchst zuverlässige Backup-Engine, eine flexible Backup-Planung und die hochwertige Verschlüsselung werden auch von den Administratoren großer Firmen geschätzt. Nutzen Sie deshalb professionelle Sicherheit für Ihren PC!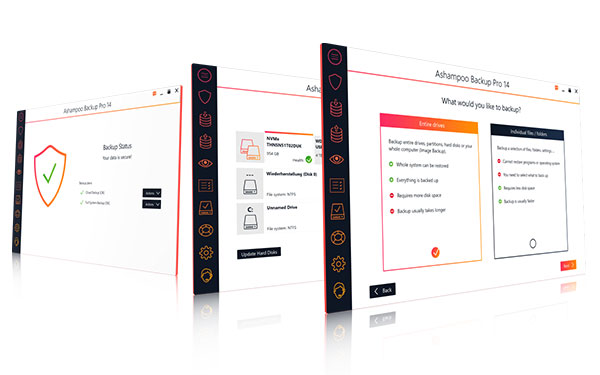 Die Rettung in der Not mit UEFI-Unterstützung
Praktisches Rettungssystem zur Wiederherstellung zerstörter Betriebssysteme
Sind Rechner z.B. durch Ransomware befallen oder gab es einen Festplattenfehler, sind Betriebssysteme oft nicht mehr zu retten. Umso besser, wenn eine saubere Sicherung bereit steht! Ein programmeigenes Notfalls-System fährt den Rechner hoch, egal ob es von DVD oder USB-Stick gestartet wird. Mit seiner Hilfe wird das Backup zurückgespielt und der Rechner startet problemlos. So gehen nie wieder Daten verloren und aufwändige Neuinstallationen sind komplett überflüssig!
Schnell und unkompliziert bei jedem Schritt
Mit wenigen Klicks zum perfekten Backup und zu stets aktuellen Sicherungen!
Für Ashampoo® Backup Pro brauchen Sie keinerlei technisches Vorwissen. Mit wenigen Eingaben können auch komplexe Sicherungen erstellt werden! Alle Einstellungsmöglichkeiten werden im Programm erklärt, für klassische Anwendungsfälle wie die Sicherung Ihrer Mails, Browser oder Kontakte gibt es zahlreiche Voreinstellungen zur Auswahl. Wählen Sie nur kurz aus, was gemacht werden soll und lassen Sie dieses Datensicherungsprogramm nur machen!
Speichern, wo Sie wollen
Ob auf externer Festplatte oder in Cloud, Ashampoo Backup speichert total flexibel!
Ashampoo® Backup Pro sichert Ihre Backups auf allen Festplatten, USB-Sticks, Netzwerk-Laufwerken oder in der Cloud. Image-Sicherungen nutzen dabei die neu entwickelte "Infinite Reverse Incremental" Technik, die nur denkbar wenig Speicherplatz benötigt. Sparen Sie im Vergleich zu Konkurrenzprodukten bis zu 50% des Speicherplatzes!
Automatisch sicher
Immer ein aktuelles Backup nach wenigen Klicks
Wenn Sie es wünschen, wird Ashampoo® Backup Pro Sicherungen vollautomatisch im Hintergrund (Autobackup) anlegen. Einmal aktiviert, müssen Sie keine weiteren Eingaben machen. Ihr Rechner bleibt dabei unverändert schnell. Sicherungen werden automatisch unterbrochen, wenn die Software erkennt, dass Sie die volle Leistung Ihres Computers benötigen! Erst wenn wieder Ressourcen frei sind, macht das Programm weiter.
Volle Sicherheit für Ihren PC!
Ein Backup-Programm ist ein guter Anfang für den Schutz Ihres Systems. Mehr Privatsphäre, Power und Stabilität schafft Ashampoo® WinOptimizer für Sie. Gewinnen Sie neuen Speicherplatz, verändern Sie Systemeinstellungen für mehr Sicherheit und Privatsphäre und beschleunigen Sie Ihren Computer bis zum Maximum! Den umfassenden Echtzeitschutz vor Malware jeder Art erlangen Sie durch Ashampoo® Anti-Virus. Geben Sie Erpresser-Software wie Ransomware und Trojanern keine Chance durch Surfschutz, Echtzeit-Dateiwächter, Verhaltensanalyse und Anti-Ransomware – die vier Schutzschichten von Ashampoo® Anti-Virus!
Unser sicherstes Backup-Programm aller Zeiten!
Die Backup Software gegen Datenverlust bei Ransomware und Systemfehlern
Geben Sie Erpressern aus dem Internet keine Chance! Mit Ashampoo® Backup Pro 14 verlieren Viren, Ransomware oder Windows-Fehler ihren Schrecken! Erleben Sie eine einfach zu bedienende und dennoch mächtige Backup-Software. Das neue Ashampoo® Backup Pro 14 bietet Ihnen alle Möglichkeiten, Dateien oder ganze Partitionen auf lokalen Speichermedien oder auch online zu sichern. Dazu arbeitet das Programm ressourcenschonend und doch leistungsstark im Hintergrund. Auch die Wiederherstellung Ihrer Backups ist kein Problem. Selbst bei kompletten System-Ausfällen bringt ein spezielles Notfall-Programm Ihr System sicher zurück!
| | |
| --- | --- |
| Wohin kann ich sichern? | |
| Lokale Festplatten | ● |
| Wechseldatenträger | ● |
| OneDrive Business / Office 365, Owncloud und Nextcloud unterstützt | VERBESSERT |
| OneDrive | VERBESSERT |
| 1&1 Cloud | VERBESSERT |
| Dropbox | VERBESSERT |
| Google Drive | |
| Strato HiDrive (WebDav) | |
| Telekom MagentaCLOUD | |
| Online-Speicher | |
| Netzlaufwerke (NAS) | |
| Jeder andere Dienst welcher das WEBDAV-Protokoll unterstützt. | VERBESSERT |
| Was kann ich sichern? | |
| Partitionen und Festplatten | VERBESSERT |
| Komplette Windows-Systeme sichern und wiederherstellen | VERBESSERT |
| Dateien und Ordner | |
| Netzlaufwerke | |
| Windows Mail, Kalender & Kontakte (App) | |
| Smart-Regeln für Microsoft Outlook | |
| Smart-Regeln für Mozilla Thunderbird | |
| Smart-Regeln für Google Chrome | |
| Smart-Regeln für Microsoft Edge | |
| Smart-Regeln für Internet Explorer | |
| Smart-Regeln für Firefox | |
| Wie wird gesichert? | |
| Speicherabbild (Image-Backup zur Wiederherstellung Ihres Windows-Betriebssystems) | VERBESSERT |
| 1:1-Dateikopien inkl. Vergleich und Prüfung | |
| Vollständig (Komplette Sicherung sowie einfache Handhabung bei Wiederherstellung) | |
| Inkrementell (50% kleinere Backups durch Infinite Reverse Incremental Backup-Technologie) | |
| Dateitypspezifisch (selbst definierte Dateigruppen sichern; z.B. Bilder, Videos, Dokumente) | |
| Versionierung (komplette Dateihistorien automatisch sichern lassen) | |
| Proaktiv (Sicherung startet und stoppt bei Systemauslastung automatisch) | |
| Automatische Synchronisation (arbeitet im Hintergrund über eigenen Dienst) | |
| Weitere Funktionen: | |
| Komplett überarbeitete Backup-Engine | NEU |
| Automatische Backup-Verifikation | NEU |
| Stark verbesserte Cloud-Anbindung | VERBESSERT |
| Backup Viewer: Bequemer Zugriff auf alle Daten der Sicherung | ● |
| Komplett neue, selbsterklärende Benutzerführung | ● |
| Windows-basiertes Rettungs-System | ● |
| Kontrolle des Schlafmodus während der Sicherung | ● |
| Selbsterklärende Bedienung (kein technisches Wissen notwendig) | ● |
| Berichte per E-Mail | |
| Verschlüsselung (256-bit AES) | |
| Komprimierung (7Zip/LZMA) | |
| Passwortschutz | |
| Assistenten | |
| Aufgabenplanung | |
| Virtuelle Laufwerke (für direkten Zugriff auf Inhalte abgelegter Sicherungen) | |
| Integritäts-Verifikation (prüft und stellt die Unversehrtheit Ihrer Daten sicher) | |
| Fehlerbenachrichtigung | |
| Image-Backup von Festplatten > 2 TB | |
| Erweiterte Zeitplanung | |
Danke an unsere Übersetzer

German

English

Dutch (Guy Raedersdorf)

French (Guy Raedersdorf)

Hungarian (László Koncz)

Russian (Сергей Царёв)

Polish (Jacek Milecki)

Italian (Severino Grandi)

Portuguese (Manuela Silva)

Spanish (Miguel Blasco)

Swedish (Olle Ohlsson)

Turkish (Çağdaş Tatar)

Slovenian (Jadran)

Czech (Libor Divis)

ChineseSimplified (Smilefly )

British English (Chris Brooker)

Bulgarian (Георги Миргов)

Serbian (Ilija Komljenović)

Portuguese (Brazilian) (Josè Carlos Taveira)

ChineseTraditional (Alan)

Danish (Kjeld Børager)

Romanian (Andrei Grigorcea)

Catalan (Joan Queralt)

Slovakian (Milan Slovák)

Finnish (Veikko Muurikainen)

Latvian (Voldemars Bulans)

Serbian (Ilija Komljenović)

Spanish (Argentina) (Angel De Giorgi)

Belorussian (Arhim2005)

Norwegian Nynorsk (Olai Otterå)
Systemvoraussetzungen
Betriebssystem:
Windows® 10, Windows® 8, Windows® 7
Computer:
Jeder Computer, der die oben aufgeführten Betriebssysteme unterstützt.
Sonstiges:
Zur Aktivierung des Programmes ist eine Internetverbindung erforderlich. Die Programm-Lizenz wird in regelmäßigen Abständen überprüft.
Es werden Administrationsrechte auf dem System benötigt, um das Programm einsetzen zu können.
How and when do I get my purchased product?
Digital products, product keys and access to the download center will be made available to you by email immediately after your purchase - unless a data medium has been ordered.
What payment options are available to me?
PayPal, Amazon Pay, Instant bank transfer, Credit card, Apple Pay, Prepayment, Purchase on invoice
What guarantees do I have at Blitzhandel24?
Blitzhandel24 is an EHI, TrustedShops and CHIP certified online brand shop. Blitzhandel24 also offers its customers permanent support, as well as support for the purchased product. If a product has not been used / redeemed, our customers can benefit from the money-back guarantee.
Related links to "Ashampoo Backup Pro 14 Download"
How do our prices come about ?
more
How do our prices come about ?
The basic principle of the software trade is the art of omission.
by quantity bundling
Opening of delivery and storage fees through virtual merchandise management.
Direct imports
Long-term relationship with distributors.
Low profit margin, main priority at Blitzhandel24 is the valuation as well as the growth of the customer base.
A central and lean administration.
Quantity purchases from authorized suppliers/distributors.
Omission of high-priced marketing investments, as more value is placed on regular customers in the sense of "customers recommend customers"
we realize cost advantages, which we pass on to our customers via favourable prices.
Is the quality therefore worse?
We promise our customers excellent quality. The prices do not affect the quality in any way, our customers get tested verified products. In addition you have with Blitzhandel24 a security up to 20,000€ over Trusted Shops as well as a legally safe Shop, by EHI Prüfsiegel.